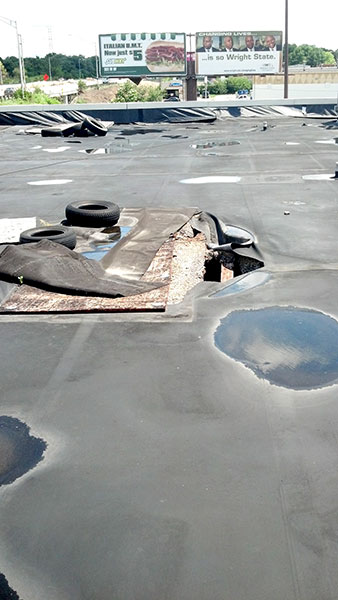 Proper roof maintenance is key to long term and long lasting roofs. This isn't a job you should trust to anyone. If you want to make the most of your roof and make sure your home is safe, make sure you get a skilled roofing professional to do it for you. Maxim Roofing Co. can do comprehensive preventative and restoration maintenance to help add to the longevity of your existing roofs. We maintain modified bitumen, EPDM, Gravel surface BUR, standing seam, TPO, and Duro-last roof systems.
Our Repair and Maintenance Division is ready to respond with 24-hour emergency roof service, repairs and preventive maintenance plans to make your roof last longer. We offer free estimates for repairs and roof maintenance plans. Roof inspections reports are available and include a detailed report with pictures.
Residential & Commercial Services Include:
24-hour emergency repair service
Roof maintenance is often the most neglected area of a roof management program. It's also the single most important factor (after proper installation) for determining the life span of the roof. We can customize a roof maintenance plan for your home or business.
The best way to avoid roof-related problems and strengthen weather resistance is through regular care and preventive maintenance. Proper maintenance also prolongs the life of a roof and in many instances will allow for "repair" instead of "replacement" when a problem is identified. The frequency of routine maintenance depends on several factors, including the age of the roof, recent weather events, rooftop foot traffic, and conditions identified during previous inspections. Having routine roof maintenance every 6 months (fall and spring) is the most effective way to keep your roof at its best.
Roof Maintenance Plans Include:
Roof Investigation
Debris clean-up
Gutter and Downspout Cleaning
Re-Sealing throughout
Inspection of drainage system (commercial)
Free estimates for repairs